15 December 2022
Why Tour Companies Should Invest in Commercial Cleaning Systems
If you operate a fleet of tour buses or coaches, it's vital that they offer customers a clean and welcoming environment from which to enjoy their tour. In this article, we look at the benefits of investing in a bespoke commercial cleaning system for your fleet.

Improve Your Business's Reputation
When tourists arrive in a city with the aim to explore it, they expect their chosen tour bus company to convey a professional image. Unkempt vehicles will be off-putting and will quickly earn your business a negative reputation that will discourage future customers. A bus wash system will maintain your fleet and ensure your vehicles are eye-catching and attractive – important characteristics for capturing the attention of tourists waiting for the next available tour bus.
Enhance The Customer Experience
In all enterprises, it's essential to keep customers happy. A positive customer experience will encourage loyalty, secure good feedback, and increase recommendations – three key ingredients for long-term profitability. By thoroughly cleaning your fleet, you will improve the customer experience in many ways. For example, clean windows offer tourists unobstructed views of city landmarks, while a pristine interior reduces the prevalence of bacteria that could cause your customers to become ill in the days after stepping off your bus.
Lower Obstructive Noise
The best city tours provide tourists with an engaging and informative narrative that tells them everything they need to know about their destination. A poorly maintained tour bus may suffer from noisy mechanical problems, such as popping fuel pumps, a squeaky suspension, or a rickety engine, which will instil anxiety amongst your customers and make it harder for tour guides to communicate. Keep your vehicles clean inside and out, unclog filters, and make sure the exhaust is in a roadworthy condition.
Increase Road Time
If tour buses are poorly maintained, there is an increased likelihood that they will spend unnecessary periods of time off-road. For example, if they are left to get dirty before being cleaned, it will take longer and cost more to return them to their proper condition. Mechanical problems that would have been spotted through preventive maintenance could consign your vehicles to the garage for hours or even days, during which time you are losing valuable income.
Give Your Fleet A Fresh Makeover
Commercial cleaning machines will help to make the interior of your buses as pleasant and comfortable as possible, by giving them that unmistakable 'new car' smell. Your customers will instantly feel more relaxed, their mood will improve, and they'll be more likely to recommend your business to others in future.
Contact Us For More Information
At Britannia Wash Systems, we can design and install a bespoke bus wash system for your tour company. To find out more, please call us today on 01789 400096 or send us a message and we'll be in touch soon.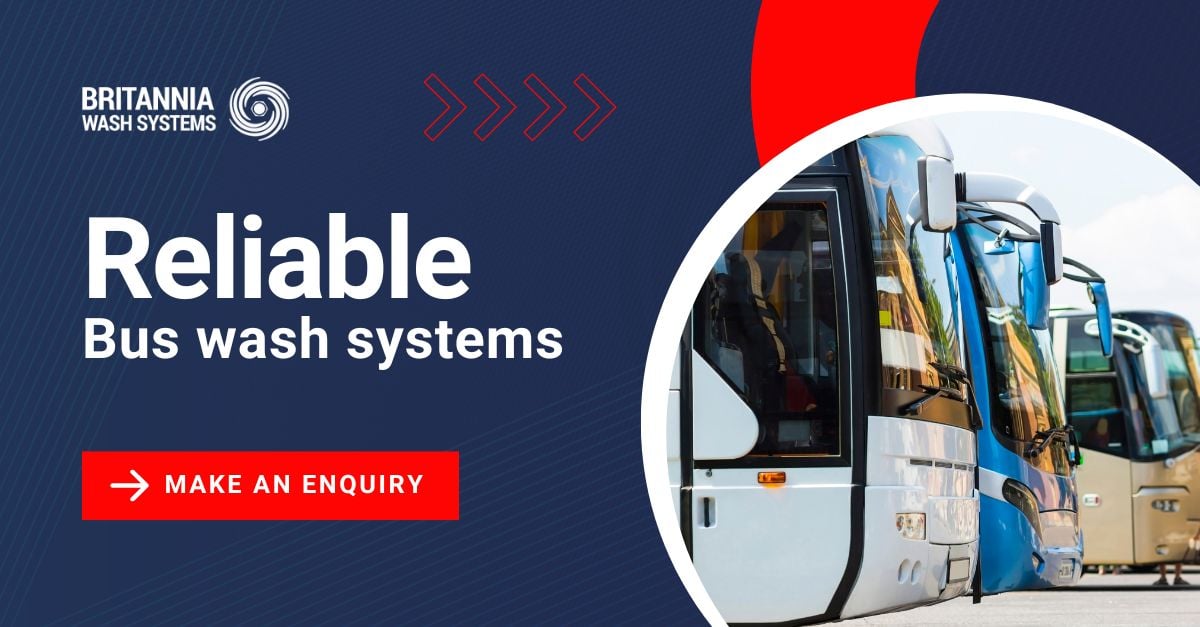 Image Source: Pexels