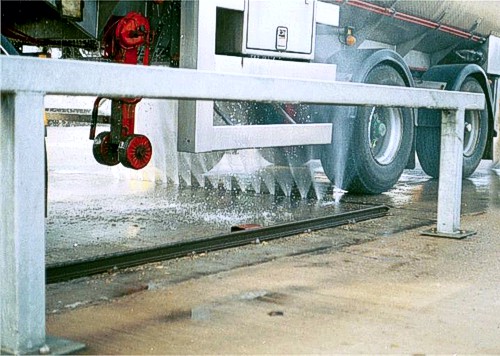 5 September 2022
The Advantages of Investing In A Jet Spray System
Commercial fleet vehicle cleaning systems need to be fast, reliable, and thorough to achieve exceptional results without causing disruption to delivery schedules. Fleets must be clean to convey a professional image and protect their bodywork from corrosion, but many operators rely on manual washing, which is time-consuming and expensive – and often fails to achieve the desired results.
Automated jet spray system, is a cost-effect and reliable alternative to manual washing for larger vehicle fleets. Hot or cold water is delivered under high pressure, targeting all areas of the vehicle, including those which are difficult to access manually or may be overlooked. Designed for both standard and awkwardly shaped vehicles, jet spray systems offer important advantages compared to other forms of cleaning.

1) Reduce The Number Of Breakdowns
If you're providing transport services for fare-paying customers, you'll know the importance of delivering a reliable and trustworthy service. Vehicle breakdowns cause inconvenience for passengers, increase financial claims against your company, and can cause rapid reputational damage on social media, too. If dirt, grease, and grit salt is allowed to accumulate in the vehicle chassis, where it cannot easily be removed manually, mechanical problems are more likely to occur, so jet washing will quickly and effectively remove debris, at the end of the day, thereby reducing the likelihood of breakdowns on shift.
2) Avoid Damage To Bodywork
The effectiveness of manual washing depends largely on the skills of the operator and, even when equipped with the correct tools and training, it's easy to accidentally cause damage to a vehicle's bodywork, such as chips in the paintwork. Any damage must be professionally repaired to preserve the vehicle's appearance – poor presentation reflects negatively on the business – which incurs unwanted costs. In contrast, jet washing delivers outstanding results without any risk of damage to a vehicle's bodywork.
3) Save Time and Money
To manually clean a large vehicle, such as a train, tram, or bus, would take a considerable amount of time and water, so important economies can be achieved by investing in a purpose-built commercial jet wash system. With automated jet washing, cleaning is quick and comprehensive – no amount of manual washing could deliver the same results – while water consumption is carefully controlled to ensure that you don't incur excessive bills.
Contact Us To Find Out More
At Britannia Wash Systems, our jet spray systems for your fleet, are designed to meet the needs of lorry, tram, and train operators, by providing cost-effective and reliable cleaning solutions.
Please call +44 (0)1789 400096 today to find out more.